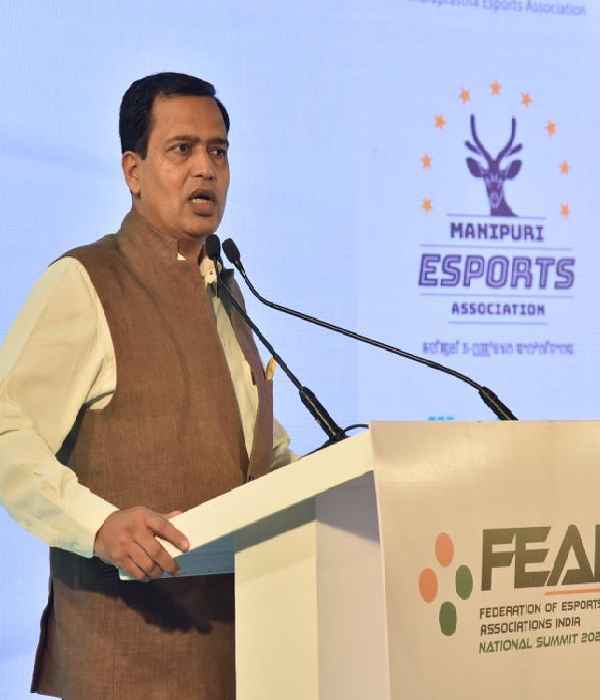 Shri Vaibhav Dange is a man on a mission. To envision systems, create processes, and catalyze infrastructure projects that will fast track the emergence of a new India.
Building India
One of the key feathers in Shri Dange's cap is to have, until recently, served as Private Secretary to Shri Nitin Gadkari, Union Minister of Road Transport, Highways & Shipping.
As PS to the Union Minister, he has played a pivotal role in ensuring that the Government's vision and objectives of Infrastructure Development, to build a robust, seamlessly connected nation where progress and prosperity reaches the farthest corners, is translated into action on ground.
The Ministry of Road Transport, Highways & Shipping has been recognised as the best performing Ministry by various media surveys and reports. Notably, Shri Dange was selected as the only Private Secretary from the corporate sector to serve the nation given his deep acumen of working on Policy issues - a paradigm shift from the erstwhile practices of appointing serving officers.
In parallel, as Advisor, Ministry of Road Transport & Highways at NHAI, Shri Dange shoulders multiple dynamic responsibilities, which include monitoring and facilitating Infra Financing, PPP, Stalled & stuck projects, Electronic Toll Collection and other IT initiatives of the Govt of India.

An illustrious journey
Shri Dange embarked on his professional journey with AIR Pvt. Ltd Nagpur, a company engaged in the publication of Law Journals, after successfully completing an MBA from Amravati University in 1997, a highly sought after qualification back then.
A man dedicated to nation building, he soon pivoted to matters of national trade and commerce promotion, subjects that are close to his heart. In 2017, the prestigious Board of Governors of the Indian Institute of Management, Nagpur appointed Shri Dange as a Member, a post that he still continues to serve; besides, chairing the Building Committee of IIM Nagpur, which has been constituted to build the new knowledge campus in Nagpur.
Having a deep interest in innovation and emerging practices, Shri Dange has successfully conducted a programme on "Japanese Management Practices" in Tokyo, at the AOTS Japan, an organisation created by the Japanese Govt. for the promotion of Japanese management practices in developing countries.
Initiatives for India
Shri Dange's illustrious career stint saw him growing and rising up from Project Coordinator to the position of Deputy Director before he joined FICCI.
Former Deputy Director at FICCI – India's apex business chamber, Shri Dange's robust professional portfolio involved coordination with the Central and state government's departments of commerce and industry, the two key pillars of growth and development, to promote investments and enable state level reforms through the creation of effective and strategic policy changes.
His core focus was on the promotion of Investments - both domestic and FDI. He was actively involved in significantly large scale investment promotion initiatives across the nation such as Vibrant Gujarat, Destination Madhya Pradesh and Resurgent Rajasthan organised by respective state governments..
Shri Dange's contributions to the Centre for Bharatiya Management Development (CBMD) -an organisation incorporated for the promotion of the Indian economy in the overall framework of the nation's values and needs are noteworthy. First, shaping up CBMD as an organisation in 1999, then expanding the footprint across India, with offices at over 13 locations in just 6 years!

Strategic Mind
In the past, Shri Dange has undertaken various studies on cluster, innovative business models; unorganised skill based artisanal potential in handicraft and handloom sector to mention a few, to understand the true economic potential of India. Going beyond pedagogical knowledge to translate it into publications. He has participated in a number of national and international seminars on trade and economy, including the prestigious 'WTO Ministerial Meeting in Hong Kong' in 2006.
A statesman gifted with the power of the pen, Shri Dange has authored and presented several strategic policy recommendations and papers at various levels. His paper, presented at the Rashtrapati Bhawan, New Delhi on Bio Diesel Program at the Two Day Conference organised by the former President of India, Dr. A P J Abdul Kalam was included in the proceedings of the conference. He has, over the years delivered more than 100 lectures on economic issues at various industry associations, chambers, and academic institutions across India.
Awards and Accolades
Awards and Accolades mark Shri Dange's journey as a future creator. The India European Business Forum (IEBF) has recently awarded him the prestigious IEBF Excellence Award 2019 for his Contribution in Indian Commerce & Industry on 18th Nov 2019 at a grand gala held at the revered House of Lords, UK Parliament, London.
The gala was hosted by the Baroness Sandeep Verma, in presence of luminaries such as the cricketing legend Kapil Dev, billionaire Mr G P Hinduja, Dy Mayor of London Mr Rajesh Agarwal, Mr Vijay Goel of IEBF, CA Sunil Gupta of SARC, Lord Loomba, Lord Dholakia, amongst others. The other awardees were, actor Mr Sunil Shetty, Ms Ritu Prakash Chhabria, Finolex Group, Senator John Le Fondré Jr, Chief Minister of Jersey (Chanel Iceland Between England & France), Mr Anoop Jain, Asia's Largest Startup Angel Investors, Mr Ross James, CEO Acclound, Technology Innovator, Mr Manish Tiwari, Asian Media Group UK and Mr James Clifford.
World View
His international travel to over 20 nations across all continents has imparted Shri Dange with multicultural exposure, global perspectives and deep insights on economy, infrastructure, trade and commerce from a world view.
Besides, Shri Dange has travelled extensively across the length and breadth of India, developing an in-depth understanding about the state of trade and commerce in the various states. He has worked closely with various state governments on multiple commercial and economic challenges.
New Opportunities for the Nation
With his focus on creating new opportunities across sectors, Shri Dange has developed various management-training modules for SME, Tiny & cottage industries. He actively conducts training programmes on various management issues such as 'Basic management for SME', 'Understand your Market', 'Marketing and Selling', 'Price is Policy' and more. With a passion for continuously updating self knowledge, he has recently attended the refreshment course on Transport Modelling and Planning at the University of New South Wales, Sydney, Australia, besides being appointed to the prestigious Board of Governors of IIM – Indian Institute of Management – Nagpur.