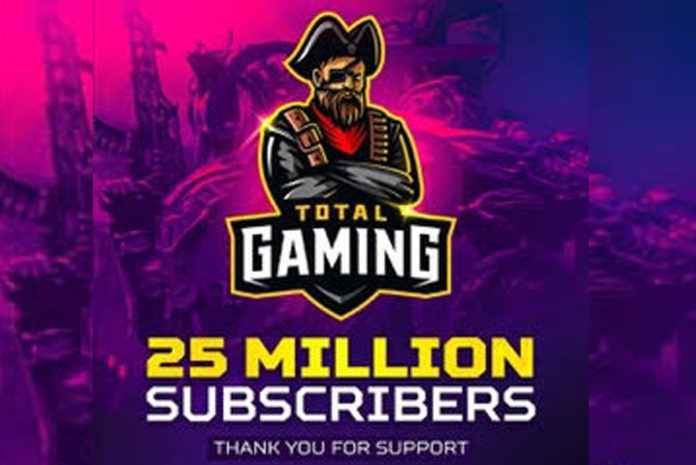 Esport Big Record – Total Gaming 25MN Subscriber: This will go down as one of the landmark moment for Indian Esports Industry. Ajay aka Ajju Bhai (Total Gaming), the biggest Free Fire content creator in India has hit 25 million subscriber mark on YouTube. He is the first Indian gaming youtuber to hit this mark. In last 2 years, Free Fire has witnessed a massive growth in popularity and established a vast player base around the world. This growth encouraged people to join the content creation and streaming field of the game.
Esport Big Record – Total Gaming 25MN Subscriber – Total Gaming posted on his instagram handle,
"Thank you all for supporting me without revealing face 25 million subscribers milestone hits. I didn't imagine this level of support, i am out of words to describe my feelings. Once again thank you all for your support and keep supporting. "
Esport Big Record: Total Gaming's Journey as a Free Fire content creator on YouTube –
Ajay started his YouTube channel on 9th October 2018 with the name of Total Gaming. Since then he continuously created content and streamed live on YouTube. He has uploaded total 1356 videos on his channel on the time of writing this article. Last 1 year was fruitful year for Total Gaming channel as his channel seen a massive growth after the ban of PUBG Mobile in India.
Currently Total Gaming have over 25 million subscribers on the YouTube with 3.8 billion views in total. His channel has generated 1.1 million subscribers in last 30 days. If we take a look on the total views in last 30 days that is 234 million.
According to Social Blade, social media analyst website which provides data of social media platforms such as YouTube, Twitch, Facebook, Instagram, Total Gaming's monthly YouTube earnings is approx $58.7K – $938.5K ( this is an estimated monthly earnings ). While he earns approx $703.9K – $11.3M in a year ( it is an estimated yearly earnings).
Here are the links of all social media handle of Total Gaming –
Instagram: https://instagram.com/totalgaming_official?utm_medium=copy_link
Facebook: https://www.facebook.com/totalgaming093
Twitter: https://twitter.com/Totalgaming093?s=09
YouTube channel: https://youtube.com/c/TotalGaming093